Madurrin
Talk

7
107,648pages on
this wiki
Madurrin
Physical description
Species
Gender
Height

4 meters

Hair color

None

Chronological and political information
Era(s)
Affiliation
Masters
Madurrin was a female Anx Jedi Knight. She was one of the original twelve students at Luke Skywalker's Jedi Praxeum on Yavin 4.
Biography
Edit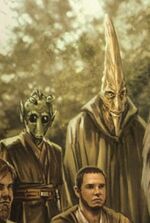 Known for her mastery of Battle meditation, Madurrin used this ability, in addition to facilitating the Jedi Force meld, to help coordinate the New Republic and Galactic Alliance naval forces during the Yuuzhan Vong War. She participated at the Second Battle of Obroa-skai and the Battle of Ebaq 9 nearly four years into the conflict and served aboard the Mon Adapyne under the command of Jedi General Keyan Farlander.[1]
Madurrin was one of several Jedi who helped coordinate the fleets at the Battle of Yuuzhan'tar, and eventually went on to serve in the defense force. She was present at the Conclave on Zonama Sekot.[2]
Madurrin was one of the few Jedi Knights to survive the Yuuzhan Vong War, and she became a Jedi adviser to Supreme Commander Traest Kre'fey and the Galactic Alliance military.
Behind the scenes
Edit
The Anx Madurrin first appeared in Destiny's Way in 2002. However, in The Essential Chronology published in 2000, an unidentified Anx was included in the depiction of the Jedi Academy. On the StarWars.com Message Boards, Leland Chee confirmed that it is assumed by him and The Holocron that these are the same individual.[3]
When Walter Jon Williams first wrote his draft of Destiny's Way, he had Madurrin's role taken by a Melodie Jedi, who he was later told died in an earlier book (therefore, most likely Lyric). Someone at Lucasfilm then suggested he use an Anx, which became Madurrin.[4]
Appearances
Edit
Notes and references
Edit