Magwit's mystifying hoop
Talk

1
113,820pages on
this wiki
Magwit's mystifying hoop
Production information




Type
Usage and history




Era(s)
Affiliation
Magwit's mystifying hoop was a short-range matter transmitter owned by the magician and illusionist Wim Magwit.
While a talented performer and magician, the hoop was the perennial favorite and highlight of his performances. By placing items—or himself—through the hoop, they would seem to disappear. In fact, the matter of the object was transmitted backstage, where it reintegrated through a corresponding hoop.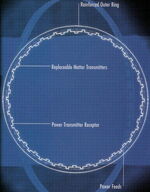 Magwit himself was unsure of how the hoop worked; he stole the device from "a rather strange alien" after observing how to operate and repair it.
When Boba Fett sought the bounty on Bar-Kooda, he enlisted the aid of Magwit, whose hoop was used by Fett to capture Bar-Kooda. While escaping Bar-Kooda's ship, Bloodstar, Magwit abandoned the hoop. Since Magwit continued to perform, it is likely that Fett returned the hoops to him.
Behind the scenes
Edit
It is possible that Magwit's hoop was Gree or Kwa technology—it may have been a very small Gree hypergate or Kwa Infinity Gate, or at least reverse-engineered from the same technology.
Appearances
Edit