November's Wookieepedian of the Month:
Congratulations from all of us here at Wookieepedia!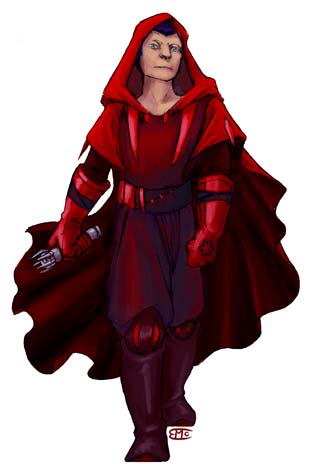 Valin Draco was a male Human Jedi Knight who was the student of Jedi Master Denia during the waning years of the Galactic Republic. Following the outbreak of the Clone Wars, he fought for the Republic against the Confederacy of Independent Systems. However, his resolve to destroy the Confederacy drew him towards the dark side of the Force, and after he was almost killed during the Battle of Parein II 4, he fell fully into its grip.
Following the creation of the Galactic Empire, Draco allied himself with it and became a member of the Inquisitorius, an order of Dark Side Adepts that served the New Order. He adapted well to his new position and soon formulated a plan to try and find evidence that Senator Bail Organa had betrayed the Empire. Draco suspected that Organa was the leader of a resistance group based on Alderaan, and he helped Admiral Gilder Varth to infiltrate the movement. He also became part of the Sarlacc Project, a secret collaboration between the Inqusitorius and the Imperial Navy to build a Super Star Destroyer prototype.
When a powerful
Force nexus
began to develop on the
planet
Almas
, Draco was sent to investigate it. In the ruins of the
Almas Academy
, a
Jedi academy
that was
destroyed
during the Clone Wars, he discovered and learned
Force
techniques from a
Sith holocron
that was constructed by the ancient
Sith Lord
Darth Rivan
. However, Draco was seriously injured after an
encounter
with the Alderaanian Resistance, and had to be fitted with extensive
cybernetics
. He gained revenge by
attacking
a Resistance taskforce and capturing Denia, his former master. He took her to the
headquarters of the Inquisitorius
on
Prakith
, a planet located in the
Deep Core
, and tortured her there. However, a rescue team traveled to Prakith to free her, and Denia sacrificed herself to weaken Draco, forcing him to flee to the planet
Byss
where the Super Star Destroyer prototype was under construction. There, Draco took command of a
Golan space defense platform
that was protecting the prototype and he was killed when the platform was
attacked
by the Alderaanian Resistance.
(Read more…)