August's Wookieepedian of the Month:
Congratulations from all of us here at Wookieepedia!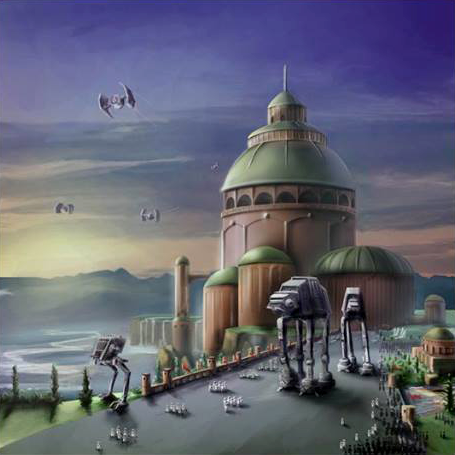 The Emperor's Retreat was Emperor Palpatine's private sanctuary on his homeworld Naboo. West of the city of Moenia, the retreat was a luxurious marble edifice nestled in the Naboo hills, overlooking a lake. Palpatine attended his retreat with much of his court, including his Sith apprentice Darth Vader, Head Chamberlain Kaja Or'Zee, Grand Inquisitor Ja'ce Yiaso, Chief Inquisitor and head of security Loam Redge, Procurator of Justice Hethrir, and many others among the Empire's Dark Side Adepts and military. Under Redge's watch, the facility's security included a perimeter of guard towers, several All Terrain Scout Transports and All Terrain Armored Transports, and many stormtroopers and other soldiers, including storm commandos and dark troopers.
Loam Redge oversaw construction of the site; upon the retreat's establishment, the
Rebel Alliance
practically disappeared from Naboo and Palpatine had little trouble with them. However, this changed by
1 ABY
, when a number of incidents occurred near the retreat, including an assassination attempt on
Moff
Grayed Wintozzen
, a counterfeit operation, and an Imperial
captain
being shot down in his
shuttle
. Palpatine reacted by creating a demonstration of the Empire's force, but problems still continued, when a traitor to the Empire started a campaign of sabotage that was only ended with his death.
(Read more…)