February's Wookieepedian of the Month:
Congratulations from all of us here at Wookieepedia!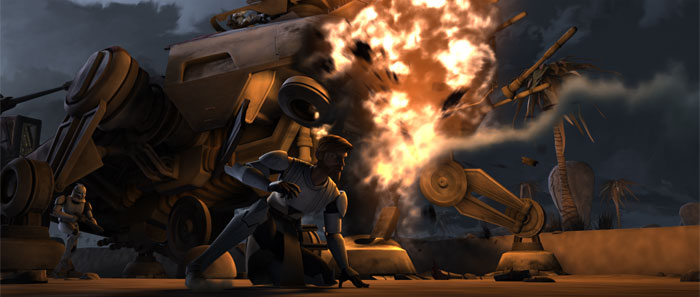 During the Clone Wars between the Galactic Republic and the Confederacy of Independent Systems, the Battle of Saleucami occurred between the two factions on and in orbit of the Outer Rim world Saleucami. The conflict was the result of the capture and torture of Jedi High Council member Eeth Koth at the hands of the Confederate Supreme Commander, General Grievous. With the Jedi Master as his captive, Grievous sent a transmission to the remainder of the Council on Coruscant in which he brutally tortured Koth to express his hatred for the Jedi Order. Unbeknownst to the cyborg General, Koth used discreet hand signals to inform the Council of his location. Using the information provided by Koth, Jedi Masters Obi-Wan Kenobi and Adi Gallia, as well as Jedi Knight Anakin Skywalker, organized an assault force to engage the Confederacy at Saleucami, rescue Koth, and capture General Grievous.
Kenobi was the first of the Jedi to arrive at Saleucami and engaged Grievous's forces with a fleet of Star Destroyers and nimble Consular-class frigates under the command of Admiral Wullf Yularen. Early in the battle, Kenobi's light cruiser was caught in a tractor beam from Grievous's Recusant-class light destroyer and was boarded by battle droid forces and the cyborg General himself. While Grievous was dueling Kenobi aboard the cruiser, Skywalker and Gallia entered the battle and infiltrated the General's destroyer to rescue Eeth Koth. Despite Grievous's preparations for such an occurrence, the two Jedi were successful in freeing the captive Master and getting him off the ship. Meanwhile, Grievous, understanding that Kenobi had the upper hand in their duel, retreated to his destroyer and led his battle droids onto a landing craft bound for Saleucami's surface. During the descent, the craft collided with debris from the battle, forcing Grievous to flee the doomed vessel in an escape pod.
While Skywalker continued the battle in orbit, Kenobi led a force of
clone troopers
to the planet's surface to hunt down Grievous. The cyborg General evaded and fled from the Republic forces, hoping to reach an escape pod with a functioning
transmitter
in order to call for an evacuation
transport
. During the search for Grievous,
Clone Captain
CT-7567
was seriously injured, necessitating aid from local
farmer
Cut Lawquane
, a
clone
who had deserted the
Grand Army of the Republic
. During the
Captain's
stay at
Lawquane's farm
,
droid commandos
that had previously escaped the doomed
landing craft
attacked the farm homestead and were repelled by CT-7567 and the former
trooper
. Meanwhile, Kenobi caught up with and engaged Grievous, who fled the battle once a
Sheathipede-class shuttle
arrived to ferry him away.
(Read more…)