August's Wookieepedian of the Month:
Congratulations from all of us here at Wookieepedia!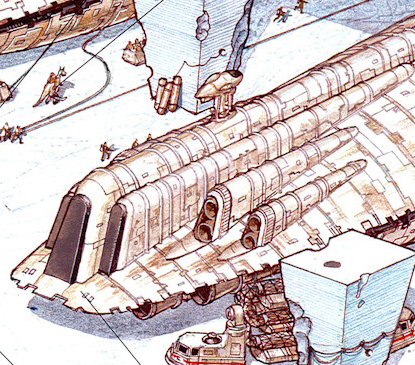 Thon's Orchard was a GR-75 medium transport of the Rebel Alliance Fleet. Originally a product of ill-fated starship manufacturer Gallofree Yards, which went bankrupt several years before the height of the Galactic Civil War, Thon's Orchard and other outdated Gallofree transports like it were sold to the Rebel Alliance at bargain prices. As one of thirty GR-75 medium transports stationed at Echo Base, the Alliance High Command headquarters on the Outer Rim Territories ice planet Hoth, Thon's Orchard later helped facilitate the Rebellion's successful evacuation of its compromised outpost during the Battle of Hoth in 3 ABY.
The Rebels' defensive strategy against the
Imperial
invasion
force
during the battle relied heavily on the Echo Base transport
fleet
to evacuate command personnel and supplies from the besieged planet. While the
Rebel pilots
of
Rogue Group
fought to buy
time
for the evacuation, the transports faced a dangerous run through the
Imperial Star Destroyer
blockade
in Hoth's
orbit
, with only minimal
starfighter
escort and covering fire from Echo Base's
planetary ion cannon
to protect them.
Thon's Orchard
,
piloted
by Rogue Group member
Tarrin Datch
, departed Echo Base with the final evacuation group late in the battle. Despite the loss of the
ion cannon
,
Thon's Orchard
safely passed through the Imperial blockade with assistance from escort pilots
Luke Skywalker
,
Wedge Antilles
, and
Derek "Hobbie" Klivian
and regrouped with the Alliance at its
rendezvous point
.
(Read more…)