November's Wookieepedian of the Month:
Congratulations from all of us here at Wookieepedia!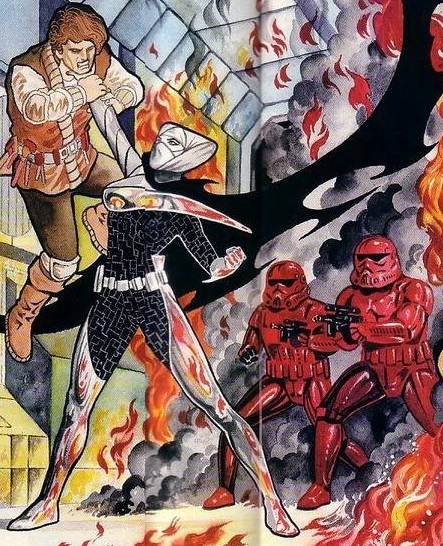 An
assault
on the
Epsilon Nine
Communications Research
space station
was carried out in
4 ABY
by
Dark
Lady
of the
Sith
Lumiya
on behalf of
Imperial
stewardess
Ysanne Isard
. In exchange for military resources, Lumiya was contracted by Isard for a mission to the
Cron Drift
that involved inspecting the progress of several top-secret Imperial research installations. The
New Republic
had recently absorbed one of the Cron Drift research facilities,
Epsilon Nine
, into its holdings, in an attempt to liberate the
scientists
there from Imperial authority.
Lumiya's fleet
was engaged by the New Republic defenders upon arrival in the
Auril sector
, and the Dark Lady released the might of her newly-restored armada to quickly neutralize the less-than-adequate Republic opposition. She then entered the research station herself to both crush the traitor's faith in the Republic's ability to protect them and to re-exert Imperial sovereignty. Lumiya's presence was enough to elicit fear from the Imperial defectors, and the threat of deadly force sufficiently compelled Epsilon Nine's staff into reinstating their loyalty to the Empire. Certain that her instructions would not be disobeyed, Lumiya and her fleet departed Epsilon Nine with the guarantee that she would return in several months to ensure Epsilon Nine's continued cooperation.
(Read more…)