September's Wookieepedian of the Month:
Congratulations from all of us here at Wookieepedia!
| | | |
| --- | --- | --- |
| | For an optimal viewing experience, Wookieepedia recommends using the Monobook skin. See Help:Skin for more information. | |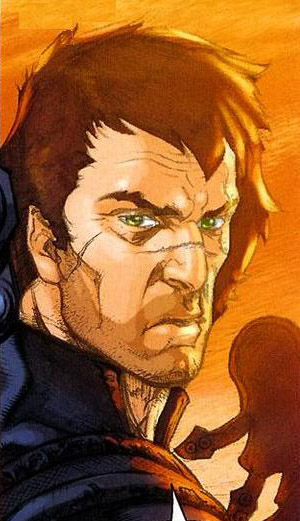 Darca Nyl was a Human male mercenary who, after falling in love with a woman named Teril, retired and settled in the Outer Rim Territories. His wife died in childbirth, and Nyl devoted his life to raising his son Neas. However, Neas was killed one day in 32 BBY by the Dark Jedi Lycan, who escaped from a Jedi starfighter that crashed on Nyl's farm. Nyl was given a lightsaber from the Jedi who died in the crash while taking Lycan to the planet Coruscant for trial. Nyl buried his son and swore vengeance on Lycan. He burned his home and everything he had, beginning his hunt two days later.
Nyl pursued the Dark Jedi for months across several worlds. On each, he was mistaken for a Jedi and drawn into the problems of locals, which he resolved. Finally, on Molavar, he confronted Lycan, drawing the Dark Jedi into a trap he had set. Nyl killed Lycan and was ready to die himself in the cave-in he caused, but, driven by visions of his dead family, he escaped. Inspired by the good he had done over the course of his quest for revenge, he decided to become a traveling do-gooder, aiding those who could not help themselves.
Over time, Nyl joined the
Alliance to Restore the Republic
and helped to train its
spies
. After training accidents that resulted in death, Nyl was dismissed from the Rebellion and fell into a sullen, solitary existence. He was roused from it by the arrival of Rebel spy
Wyl Tarson
, who recruited him for a mission to
Ahakista
in
0 ABY
. While Nyl was able to determine that Tarson was not actually working for the Rebellion, he was rejuvenated by the ability to battle the
Galactic Empire
. However, the mission went sour, and after escaping a
lightsaber duel
with
Sardoth
and
Darth Vader
, Nyl vowed vengeance on Tarson, who he was certain had betrayed the mission.
(Read more…)
Ad blocker interference detected!
Wikia is a free-to-use site that makes money from advertising. We have a modified experience for viewers using ad blockers

Wikia is not accessible if you've made further modifications. Remove the custom ad blocker rule(s) and the page will load as expected.