November's Wookieepedian of the Month:
Congratulations from all of us here at Wookieepedia!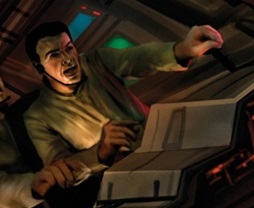 Villian Dance, nicknamed Vil, was an Imperial TIE Fighter pilot who defected to the Rebel Alliance after becoming disillusioned with the Empire. A native of Corellia, Dance attended Imperial City Naval Base on Coruscant early in his career, where he trained under Vindoo Barvel, a hero of the Clone Wars who was considered the best pilot in the galaxy. At some point before 1 BBY, Dance was promoted to lieutenant commander and given control of Alpha Squad.
In 1 BBY, Dance and his
squadron
were moved to the
Death Star
, a
battlestation
being constructed above
Despayre
. Dance
fought
for the Empire in the
Attack on the first Death Star
, where he became a double
ace
after amassing ten
kills
. However, the ease with which he killed the enemy pilots disturbed him, as Dance felt that the battle had been a virtual slaughter. After the
Destruction of Alderaan
a short time later, Dance lost all faith in the Empire, and planned to desert along with his girlfriend
Teela Kaarz
and a small group of like-minded individuals. During the
Battle of Yavin
, the group commandeered a
shuttle
, hoping to escape from the
Death Star
. When the battlestation exploded mere seconds after they had left the
hangar
, they were free from the Empire. After proposing marriage to Kaarz, Dance and the survivors of his group joined the Rebellion on
Yavin 4
.
(Read more…)