Quote of the Day
"It wasn't wrong, Anakin. It may be not the Jedi way, but it was right. Perfectly natural— he took your hand; you wanted revenge. And your revenge was justice."
"Revenge is never just. It can't be—"
"Don't be childish, Anakin. Revenge is the foundation of justice. Justice began with revenge, and revenge is still the only justice some beings can ever hope for. After all, this is hardly your first time, is it?"
―Anakin Skywalker and Palpatine discussing Skywalker's slaughter of Dooku

Featured article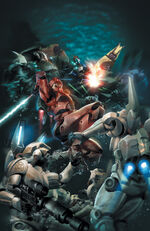 Star Wars: Legacy: Fight Another Day is the ninth story arc of the comic series Star Wars: Legacy. It stars Treis Sinde, an Imperial Knight of the Empire-in-exile, as he and the Mon Calamari Rangers of the water world Dac fight against the aquatic forces of Darth Krayt's Galactic Empire in the year 137 ABY. Darth Krayt has declared genocide on the Mon Calamari in the midst of an Imperial Civil War, and Sinde, stranded on-world, is serving as an advisor to the Rangers as they hold off the onslaught brought by Krayt's war machines. His beliefs in sacrificing others for the greater good contrast with those of the Rangers' Captain Tanquar, who wants to save everyone he can, and their opposing viewpoints come to a head after they disable but fail to capture an Imperial Acklay battle fortress. Meanwhile, Darth Azard and Vul Isen—two members of Darth Krayt's One Sith—unleash a monstrous Sea Leviathan into Dac's oceans, and Sinde and Tanquar must reach a compromise regarding how best to deal with the new threat.
Fight Another Day is composed of two issues: Legacy's thirty-second and thirty-third. Both were written by John Ostrander, with Omar Francia penciling and inking; Francia created fully poseable 3D models of the story's various vehicles before putting them to the page. Fight Another Day, Part 2 introduces new continuity by naming Jagged Fel, a star of several Star Wars novels, as the first Emperor of the Fel Empire—Ostrander held off making the revelation for nearly three years but felt that the time was finally right. The two issues of Fight Another Day were released by Dark Horse Comics in January and February of 2009, respectively, and around 25,000 copies of each were shipped to comic shops worldwide. Reception to the story was generally positive amongst fans and reviewers, with its examination of loyalty and duty often named as a highlight. Fight Another Day was later included in the 2009 Star Wars: Legacy Volume 7: Storms trade paperback and the 2013 hardcover omnibus Star Wars: Legacy Book 2. Digital versions of its two issues were released in 2012. (Read more…)
Good article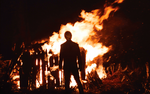 In the aftermath of the Galactic Empire's defeat against the Alliance to Restore the Republic during the Battle of Endor, Jedi Knight Luke Skywalker held a funeral for his father, Anakin Skywalker, on the forest moon of Endor. During the battle, Anakin, who had been known as the Sith Lord Darth Vader—was redeemed by Luke and brought balance to the Force. However, the redemption cost Anakin his life, having been mortally wounded by Emperor Sheev Palpatine while killing his former Master.
After his death, Anakin became one with the Force. Luke escaped the Death Star II, where Anakin had died, just before the space station was destroyed by the Rebel Alliance. Once on Endor, Luke built a funeral pyre and lit his father's empty armor on fire. After the funeral ended, Luke joined the Rebels and the native Ewoks for a victory celebration, where he saw the spirit of his father—along with the spirits of Jedi Masters Obi-Wan Kenobi and Yoda—proudly watching the celebration. (Read more…)
Recently showcased: Senalak – Wry – Desolation Station

Did you know…
From Wookieepedia's newest articles: