Mandalorian Shock Trooper Armor
Talk

6
103,474pages on
this wiki
Mandalorian Shock Trooper Armor was a catch all term for the various armor styles worn by the Mandalorians throughout the years, including the Neo-Crusader armor used during the Old Sith Wars, and the supercommando armor worn by the True Mandalorians, the Protectors and the Death Watch during the Clone Wars and Galactic Civil War.
Boba Fett
,
Jango Fett
, and
Jodo Kast
were three noted individuals who wore Mandalorian Shock Trooper armor. The careful layering of segmented armor plates ensured mobility, which further increased by wearing a jetpack. The Mandalorians began to see the value of extra weapons mounted on the suit, so simple dart shooters, grappling wires, wrist-mounted rocket launchers, wrist blades, and flamethrowers were added to the overall design. All known Mandalorian helmets were the same in the inclusion of a T-visor. There are 5 variants of shock trooper armor that is seen, the most common variant of the armor is the variant worn by
Boba Fett
. Another variant of the armor is commonly seen in
Star Wars Galaxies
. A variant of the armor is worn by
Fenn Shysa
which has no visible armor plates. The last two variants are similar but with only the upper armor plates of the armor and one is with the
Star Wars Galaxies
chest plate and the other one is with the most common variant, also worn by
Fenn Shysa
.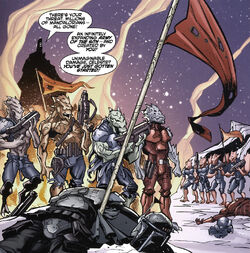 This type of Mandalorian armor was seen as early as the
Mandalorian Wars
at the
Battle of Jebble
. The
armor
worn by
clone troopers
in the early battles of the Clone Wars was loosely based on the armor of the Mandalorians, because Jango Fett was the template for the clones. It is also possible that Boba Fett colored his armor after the shock troopers.