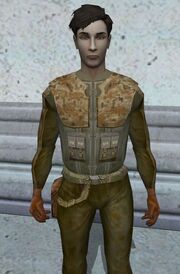 The Mandalorian combat suit was the most common of light armor employed by the Mandalorians who waged in war against the Galactic Republic. Its mesh design was capable of absorbing a remarkable amount of kinetic force. This combat suit was extremely flexible, and provided a wide range of movement, unlike the heavier armor usually worn by the Mandalorians. It was not blaster proof, but protected the wearer from small amounts of heat. It had pockets for rations and cable launchers but came with no utility belt. It was still in use during the Dark Wars, at which time most merchants valued it at 850 Republic Credits.
Appearances
Edit
Ad blocker interference detected!
Wikia is a free-to-use site that makes money from advertising. We have a modified experience for viewers using ad blockers

Wikia is not accessible if you've made further modifications. Remove the custom ad blocker rule(s) and the page will load as expected.