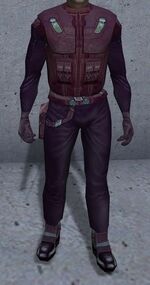 The Mandalorian heavy suit was a stronger version of the Mandalorian combat suit, providing protection to melee damage beyond the scope of what would be expected of a normal combat suit of that weight. This version was used by elite scouts and could be outfitted with various upgrades in addition to the combat suit's capabilities. Its popularity continued through into the Dark Wars and was valued at 10,000 credits at that time.
Appearances
Edit
Ad blocker interference detected!
Wikia is a free-to-use site that makes money from advertising. We have a modified experience for viewers using ad blockers

Wikia is not accessible if you've made further modifications. Remove the custom ad blocker rule(s) and the page will load as expected.