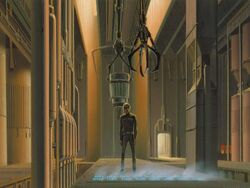 The DSI Hyperbaride Synthesis Plant was a hyperbaride synthesis plant located on the planet Marca. Initially the hyperbaride plant was owned by Dynamic Synergetics, Inc., but the Galactic Empire nationalized the company and the plant fell into their hands. Vost Tyne became the managing director of the plant after he assassinated its previous administrator, Arviz Linden. A group of Rebel agents who crash-landed on Marca tried to shut it down with the help of the mercenaries Marci and Darci Sertim after learning about its harmful effects on Marca's ecosystem and native species, the Sekct. The facility was destroyed after Marci overloaded the plant's hyperbatteries.
Appearances
Edit
Ad blocker interference detected!
Wikia is a free-to-use site that makes money from advertising. We have a modified experience for viewers using ad blockers

Wikia is not accessible if you've made further modifications. Remove the custom ad blocker rule(s) and the page will load as expected.