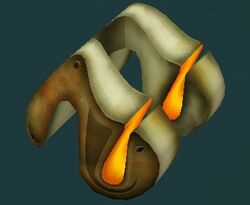 The Mark of Courage was a sculpture. It was awarded to a spacer in 1.5 ABY after they completed a task in an effort to become a hero, which displayed their courage and bravery. When combined with the other "Mark" sculptures, it formed a spherical shape.
A spacer, under the task of a strange Rodian hermit, gained this sculpture after displaying true courage by destroyed a wild bladeback boar that had been terrorizing the settlement of Mos Espa on Tatooine.
Appeareances
Edit
Ad blocker interference detected!
Wikia is a free-to-use site that makes money from advertising. We have a modified experience for viewers using ad blockers

Wikia is not accessible if you've made further modifications. Remove the custom ad blocker rule(s) and the page will load as expected.