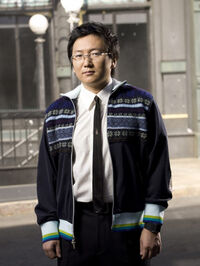 Masi Oka is a former employee of Industrial Light & Magic, where he was a digital and visual effects artist working on the Star Wars prequels. He was responsible for the effects involved in creating Geonosis's rings in Star Wars: Episode II Attack of the Clones.
Oka is also an actor; he starred in the NBC television series Heroes as the time and space-bending Hiro Nakamura.
External links
Edit
Ad blocker interference detected!
Wikia is a free-to-use site that makes money from advertising. We have a modified experience for viewers using ad blockers

Wikia is not accessible if you've made further modifications. Remove the custom ad blocker rule(s) and the page will load as expected.