"She's run this watering hole for a thousand years. Maz is a bit of an acquired taste, so let me do the talking. And whatever you do, don't stare..."
―Han Solo
Maz Kanata's castle was located on the planet of Takodana[1] on the shore of Nymeve Lake and was owned by the pirate Maz Kanata up until around thirty years after the Battle of Endor. It had a main hall and hosted travelers and smugglers, among others. It had sensor grids and advanced communications gear and was rumored to have been a battleground for the Jedi and Sith.[2] It was destroyed when the First Order attacked the castle in an attempt to capture the droid BB-8. Before the Battle on Takodana, a group of musicians composed of Sudswater Dillifay Glon, Infrablue Zedbeddy Coggins, Ubert Quaril, and Taybin Ralorsa played there.[1] All were welcome at Maz Kanata's castle so long as they followed the rules, which required no violence of any sort. As such, the castle saw visitors from all walks of life, who could generally co-mingle without fear of attack. Kanata strictly enforced the rules personally with the aid of the ancient droid "Emmie" and those who violated them were forbidden from further visits.[3] This also meant that even those who were in grave trouble, such as having a bounty on their head, could find refuge at the castle. Such individuals, however, would only be granted one free night of food, water, and shelter, after which they would have to pay a heavy fee if they wished to remain. The groundskeeper of the castle was HURID-327.[4]
Behind the scenes
Edit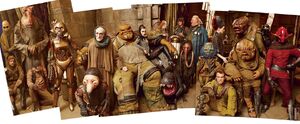 The castle first appeared in the 2015 film Star Wars: Episode VII The Force Awakens. It was first revealed in an exclusive Vanity Fair article in May 2015, which included photos by Annie Leibovitz. The pictures showcased one of the sets used for the castle and a number of human, droid, and alien characters.[5]
In The Force Awakens, the castle's exterior features numerous flags, including one depicting the logo of the real-world 501st Legion.[6] Between the release of the trailers showcasing the exterior of the castle and the final releases a number of the flags were modified significantly reducing the number of references. In Star Wars: Complete Locations, Maz's quarters has the theatrical poster of Star Wars: Episode IV A New Hope hung on one of its walls.[7]
When approaching the castle, the Millennium Falcon flies over Derwentwater, in the Lake District National Park, Cumbria, UK.
Appearances
Edit
Non-canon appearances
Edit
Notes and references
Edit
↑  Maz's Castle in the Databank (backup link)
↑ Robinson, Joanna (May 4th, 2015). Star Wars The Force Awakens's Revealed | Vanity Fair. Vanity Fair. Retrieved on December 25, 2015.
↑  The 501st Legion on Facebook. 501st Legion (December 20, 2015). Retrieved on December 20, 2015. "As we lift our restrictions on spoilers, we thought it might be appropriate to express thanks for this "Easter egg" in ‪#‎TheForceAwakens‬. A variation of the ‪#‎501st‬ logo flies proudly on a flag at Maz Kanata's castle on the planet Takodana. Thank you to J. J. Abrams and all of the crew at Lucasfilm and Disney for honoring our contributions to the Star Wars franchise. ‪#‎StarWars‬ ‪#‎BadGuysDoingGood‬" (screenshot)