Meatlump King
Talk

5
103,590pages on
this wiki
Meatlump King
Biographical information
Homeworld
Species
Gender
Hair color

Black (eyebrows)

Eye color
Skin color

Fair

Chronological and political information
Era(s)
Affiliation
"I live my life. I don't apologize for taking care of my Meatlumps. And I refused to be a fool dancing on the strings held by any of those Imperial or Rebel big shots. That's my life and I don't apologize for that."
―The Meatlump King
The Meatlump King was the Human ruler of the Meatlumps, a gang labeled by the Corellian Security Force authorities as "fanatical" and "somewhat stupid" progress haters. Sometime following the Battle of Yavin in 0 BBY, he resided in the Meatlump Hideout, a sewer system beneath the planet Corellia's capital city of Coronet.
Biography
Edit
"Our king says that electronics are the source of evil in the world and must be purged. Only simple machines and combustion engines are acceptable."
"Your king?"
"King. Leader. Whatever."
―Lieutenant Ubbal Fenn and a spacer
The Meatlump King was rumored to have begun his career as an Imperial scientist. Yet he soon began to regret building technological weapons for the Empire, and abandoned his job. This disgust led to his overall belief that all forms of advanced technology were the source of evil in the galaxy. The three brothers Hraykken, Draykken and Louis Bender were originally believed to be the only leaders of the Meatlump Gang, for there were limited reports of there being a single true leader. This all changed when Vani Korr, a representative of Corellia Times, sought to learn more about the Meatlumps and their leadership. Although the three brothers did in fact found the Meatlumps and handle most of its day to day activities, there was in fact someone lurking in the shadows—the Meatlump King.
It was later learned that the Meatlump King held court with his gang in a secret base beneath Coronet, a sewer system where no one would suspect anyone to hide.
Personality and traits
Edit
"Maybe in these moments I love life more than I ever had before. Not just my life... anybody's life... your life. All I want are the same answers anybody wants. Where did I come from? Where am I going? How long have I got? Could I have a bite of that meatlump?"
―The Meatlump King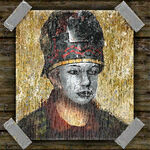 The Meatlump King was a mild-mannered, strange, yet philosophical individual. He would go to great lengths to remind others of his position. He would wear a grotesque robe and crown, also painting his face with white and gray colored makeup. He would surround himself with cardboard cutouts of himself, and even had his own self-portrait. His face was also painted on the Meatlump's official currency, the Meatlump Lump. Mysteriously, the Meatlump King could be found dancing as a hologram on many holo-entertainment tables. Unsurprisingly, his favorite food was the meatlump. Despite all this, the existence of a Meatlump King was widely unknown to most of the galaxy, and even many of the Meatlump Gang members.
Behind the scenes
Edit
The Meatlump King was a non-player character in the 2003 video game Star Wars Galaxies: An Empire Divided, a massively multiplayer online-role playing game developed by Sony Online Entertainment and published by LucasArts, prior to its closure on December 15, 2011. He was added to the game as part of Chapter 10: The Search for the Meatlump King, on June 19, 2008.
Prior to his implementation, the existence of the Meatlump King was only vaguely alluded to in the once unfinished Vani Korr Meatlump quests, and in a brief mention by Meatlump Lieutenant Ubbal Fenn in a quest titled CorSec Case Files: Assault and Battery. These cryptic references led players to speculate whether or not there actually was a "King of the Meatlumps." It became something of a running joke among players to trick new players into finding this apparently non-existent King. Others would falsely claim that they found the King, and that he dropped a wide variety of powerful loot. The game developers recognized the popularity of the fabled Meatlump King, and put him up as community vote for a new high level combat challenge known as a "Heroic Encounter." The Meatlump King lost the vote to Exar Kun as a new Heroic Encounter, but the developers did eventually add the Meatlump King as part of a new theme park catered to mid-level players.
Appearances
Edit