The Megawok was a giant Ewok that wreaked havoc amongst denizens of the galaxy during 4 ABY, around the time of the Battle of Endor.[1][2]
Behind the scenes
Edit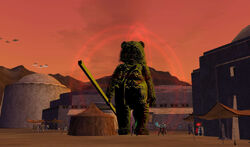 The Megawok was one of the events added into Star Wars Galaxies as part of the activities commemorating the end of the game on December 15, 2011. He was known to have attacked Mos Entha on both the Starsider, Chilastra and Gorath servers, and Endor on the Flurry server. However, it's not clear if he was ever spawned on the remaining live servers, making his canon status ambiguous.[2]
Appearances
Edit
Notes and references
Edit
Ad blocker interference detected!
Wikia is a free-to-use site that makes money from advertising. We have a modified experience for viewers using ad blockers

Wikia is not accessible if you've made further modifications. Remove the custom ad blocker rule(s) and the page will load as expected.