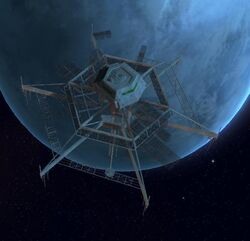 A merchant space dock was an orbital gathering place for independent ship captains looking to pick up additional work. These small independent orbital stations provided a place for ship captains to gather and an opportunity for fleet commanders to recruit them into their local defense forces for additional support.
Appearances
Edit
Ad blocker interference detected!
Wikia is a free-to-use site that makes money from advertising. We have a modified experience for viewers using ad blockers

Wikia is not accessible if you've made further modifications. Remove the custom ad blocker rule(s) and the page will load as expected.