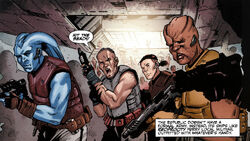 A militia was a fighting force composed mainly of citizens of a town, city or a planet that had agreed to take up arms and defend the lives of their fellow citizens in the event that their home was threatened.
The Khoonda Militia was the militia of Khoonda on Dantooine. Mos Espa, a city on the planet Tatooine, had a militia. During the Clone Wars, Rahm Kota formed his own militia force.
Appearances
Edit
External links
Edit
Ad blocker interference detected!
Wikia is a free-to-use site that makes money from advertising. We have a modified experience for viewers using ad blockers

Wikia is not accessible if you've made further modifications. Remove the custom ad blocker rule(s) and the page will load as expected.