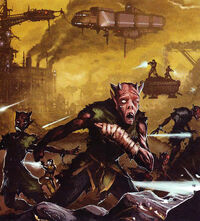 Miner referred to a sentient being who worked in the mining trade. Often, the demands of extracting precious ores and gemstones from within the crust and atmospheres of planets, moons or even asteroids required the employment of strong individuals or members of species that were known for their superior strength.
Appearances
Edit
Ad blocker interference detected!
Wikia is a free-to-use site that makes money from advertising. We have a modified experience for viewers using ad blockers

Wikia is not accessible if you've made further modifications. Remove the custom ad blocker rule(s) and the page will load as expected.