Mirialans were a species of near-Humans[5] native to the planet Mirial. Their appearance varied from yellow-green skin to paler skin very similar to many Humans. Mirialans were very flexible and agile, making them fast and formidable foes.[6]
A near-Human species, Mirialans were nearly physiologically identical to Humans. The greatest difference in their biology was their green skin and their flexibility. The latter trait gave them the upper hand over Humans in terms of agility and the martial arts.[1]
Society and culture
Edit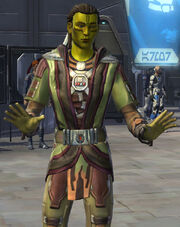 The Mirialan people were deeply religious and practiced a primitive understanding of the Force. They believed each individual's actions contributed to their destiny, building upon past successes and failures to drive them towards their fates. A Mirialan would place a unique, often geometrically repeated tattoo on their face and hands to signify that they had completed a certain test or task, or achieved sufficient aptitude for a certain skill. The number of tattoos would thus often act as a good indicator of how mature and/or skilled a Mirialan was.[1]
Because the more markings brought about a form of status, Mirialan society was stratified and allowed the heavily marked citizens to access greater opportunities. Despite its importance, most Mirialans did not know the entirety of the tattoo lexicon due to its complexity. The interaction between placement and positioning of the shapes was incredibly subtle and changed the meaning greatly.[1] Because the Force was understood through the notion of the Cosmic Force on a basic level, the cultural significance of the energy was defined as fate. Those who were not sensitive to its call still had faith in fate, and felt that it guided their lives. Mirialans always had a presence within the ranks of the Jedi Order.[1]
At some point before the Invasion of Naboo, Mirial fought in a war against a nearby planet. The notorious pirate Arwen Cohl helped lead the Mirialans to victory.[7]
Mirialans in the galaxy
Edit
Hylo Visz was a Mirialan smuggler during the days of the Old Republic who led a coalition of smugglers to break a Mandalorian blockade and deliver raw goods to Coruscant.[8]
Arwen Cohl was active as a Mirialan freedom fighter decades before the Clone Wars.[7] Luminara Unduli and her Padawan learner Barriss Offee were Mirialan Jedi who fought in the Clone Wars.[9] Teela Kaarz was a political prisoner who worked as a minor architect on the first Death Star.[10]
Behind the scenes
Edit
Mirialans are a playable species in the Star Wars MMO Star Wars: The Old Republic for the Jedi Knight class[11], the Jedi Consular class[12], the Smuggler class[13], and the Trooper class.[14] Completing any of these storylines with a Mirialan character will unlock the race as an option for all other character classes; alternatively, the race can be unlocked through purchase in the Cartel Market.
Appearances
Edit
Timeline 2: The Mandalorian Blockade is Broken (Mentioned only)
 The Sixth Line: Part One on The Old Republic

'

s official website (article) (backup link on Archive.org)
 The Sixth Line: Part Two on The Old Republic

'

s official website (article) (backup link on Archive.org)
Cloak of Deception (First appearance)
 Jedi Settle Ansion Dispute—HoloNet News Vol. 531 54 (content now obsolete; backup link on Archive.org)
Star Wars: The Clone Wars – "Destroy Malevolence" (Appears in hologram)
Star Wars: The Clone Wars – "Lair of Grievous" (Appears in hologram)
Path of the Jedi (Non-canonical appearance) (Appears in hologram)
Star Wars: The Clone Wars – "Landing at Point Rain" (Appears in hologram)
Star Wars: The Clone Wars – "Darkness on Umbara" (In "Newsreel" only)
Star Wars: The Clone Wars – "Destiny" (Vision to Yoda)
CIS Shadowfeed Dispatch 15:01:15 Edition (Picture only)
LEGO Star Wars: The Video Game (Non-canonical appearance)
Evasive Action: End Game (Appears in hologram)
Coruscant Nights I: Jedi Twilight (Mentioned only)
Coruscant Nights II: Street of Shadows (Mentioned only)
Dark Times—Out of the Wilderness 5 (Appears in flashback(s))
Notes and references
Edit
↑ 1.00 1.01 1.02 1.03 1.04 1.05 1.06 1.07 1.08 1.09 1.10 1.11 1.12 1.13 1.14 1.15 1.16 1.17 Star Wars: Force and Destiny Core Rulebook
↑ Star Wars: The Old Republic—Smuggler Mission: "Identity Crisis" on Coruscant
↑ Star Wars: The Old Republic—Republic Mission: "Nar Shaddaa Bonus Series" on Nar Shaddaa
↑ Star Wars: The Old Republic—Mission: "Keeping Secrets" on Hutta
External links
Edit
Ad blocker interference detected!
Wikia is a free-to-use site that makes money from advertising. We have a modified experience for viewers using ad blockers

Wikia is not accessible if you've made further modifications. Remove the custom ad blocker rule(s) and the page will load as expected.