Mission to Anoat
Talk

0
103,414pages on
this wiki
Previous
Next
Mission to Anoat
Conflict
Objective

Find Moff Rebus[1]

Date
Place
Outcome

Rebus surrendered to the Rebellion[1]

Factions
Participants
Casualties

None[1]

Part, if not all, of Rebus' complement[1]
The Mission to Anoat was a mission after the Mission to Talay. After ther Mission to Talay, the initials M.R. on a weapon, led Rebel Intelligence to Moff Rebus, an Imperial Weapons designer.
Known that Rebus resides in a Sewage Complex in Anoat City, this led rebel mercenary, Kyle Katarn to discover and extract him from his hideout in the sewers of the city and surrender him to the Rebellion.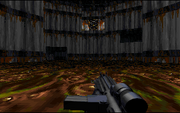 The area was scarcely guarded, if not for some probe droids and remotes. However Kyle's major danger were the dianogas living in the sewers. Also, he had to find a not so easy way to reach Rebus. He had to open 4 gates, enter their respective maze-like subsections and raise the sludge level before being able to reach Rebus' headquarters.
After the mission, Jan Ors had prepared the decontamination shower of the Moldy Crow for Kyle.
Rebus was uncooperative in the interrogation, but his erring words revealed Fest as an important station of the project.
Appearances
Edit
Notes and references
Edit