Mission to Dosuun
Talk

0
103,586pages on
this wiki
Previous
Next
Mission to Dosuun
Conflict
Objective

Investigate transmissions

Date
Place
Outcome

Demise of Rax Joris

Factions
Participants
Casualties
"I hope you're more of a challenge than that bounty hunter I had to kill a few days ago."
―Rax Joris to Jaden Korr during his imprisonment
Upon intercepting a transmission in an attempt to track the Disciples of Ragnos, Jaden Korr, an apprentice of Kyle Katarn, headed on a mission to Dosuun to investigate possible connections between the cult and the Imperial Remnant. When he landed, Rax Joris had been waiting for him with a battalion of Imperial Saboteurs. They forced Korr to drop his lightsaber and surrender. He was imprisoned, but shortly thereafter, Joris decided to entertain himself and kill the young Jedi in a face-to-face engagement. So he ordered the release of Korr.
Korr escaped from the installation and fought the Imperials, even using a captured All Terrain Scout Transport. Korr finally reached the hangar bay where his Z-95 Headhunter was located. Joris was waiting for him there and engaged the lightsaber-less Jedi Padawan. He used a concussion rifle in his attempt to kill Korr, but the young Jedi evaded the shots and clambered up to the ramp where Joris was shooting from. In close combat, Joris was unable to make use of the concussion rifle. He was then killed by Jaden, who then retrieved his lightsaber.
The New Republic dispatched troops to clean up Joris' operation shortly afterward.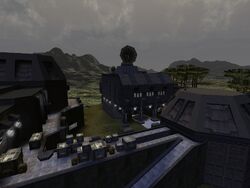 Behind the scenes
Edit
In the Star Wars: Jedi Knight: Jedi Academy game, it is possible to get to the area where Jaden originally landed.
Rax Joris can also be killed by ranged weapons, such as a disruptor rifle, from the very lowest floors of the hangar bay, without even climbing to the top.
Appearances
Edit