Mobquet medium transport
Talk

3
110,085pages on
this wiki
Mobquet Medium Transport
Production information
Manufacturer
Class

Medium transport

Cost

750,000 (225,000 used)[1]

Technical specifications
Length

113 meters

Hyperdrive rating

Class 2[1]

Shielding

240 SBD

Hull

160 RU

Navigation system
Armament
Crew

2[1]

Passengers

24[1]

Cargo capacity

700 tons[1]

Consumables

2 months[1]

Usage
Availability

Licensed[1]

Role(s)

Medium transport[1]

Era(s)
Affiliation
The Mobquet Medium Transport, also known as the Mobquet Medium Cargo Hauler, was a transport ship produced by Mobquet Swoops and Speeders.
Characteristics
Edit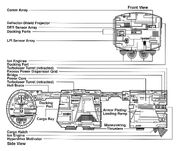 It was the basis for the Starlight Intruder's design. Although one of the slower transports, its slightly reinforced hull and extra space helped increase its popularity. The ship consisted of three modular nodes, that could be modified to serve the need of the owner. The standard design included crew quarters, storage, defensive weapons in front node, speeder racks in the second node and computer units in the third node.
Because of Tagge's connection with the Empire, the ship was licensed as medium transport rather than a heavy cargo carrier.[1] At least one Mobquet medium transport was used to make up a Hidden Jedi Temple.[2]
Behind the scenes
Edit
The Mobquet Medium Transport is shown in the background of the episodes Serenity, Shindig, and War Stories of the show Firefly. As a response, the Star Wars artist Thomas Hodges made a similar move. See Firefly-class mid-bulk transport.
The Mobquet transports in Star Wars: X-wing Alliance have textures based on the Starlight Intruder, including a shape on top of the second cargo module which is actually a replica of the Millennium Falcon.
Appearances
Edit
Notes and references
Edit