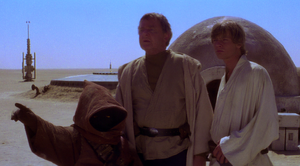 "Luke's just not a farmer, Owen. He has too much of his father in him."
―Beru Lars, to her husband Owen
A moisture farmer was an individual who operated a moisture farm, using vaporators to harvest excess humidity in the atmosphere. On sun-scorched worlds like Tatooine, most settlers of the desert were moisture farmers. Notable example included members of the Lars family, Cliegg, his son Owen, and the latter's wife Beru.
Appearances
Edit
Ad blocker interference detected!
Wikia is a free-to-use site that makes money from advertising. We have a modified experience for viewers using ad blockers

Wikia is not accessible if you've made further modifications. Remove the custom ad blocker rule(s) and the page will load as expected.