Mortis Monastery
Talk

0
103,355pages on
this wiki
Mortis Monastery
General information
Location
Usage
Era(s)
Affiliation
"Whoever I'm looking for is in that monastery."
―Anakin Skywalker
The monastery was situated on the planet Mortis during the Clone Wars. The Father lived in the monastery.
Structure
Edit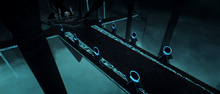 This tower was located atop a high platform and there was a glowing diamond-shaped crystal suspended a bit above the pointed roof.
Around 21 BBY, Obi-Wan Kenobi, Anakin Skywalker and his Padawan, Ahsoka Tano landed on the planet, following an ancient distress code. Anakin later found himself running to the monastery where Father offered him a room to stay. It was in the monastery where Anakin was visited by a vision of his mom who was in fact Son. Later on, Father, who wanted to see if Skywalker really was the Chosen One ordered Son and Daughter to kidnap Obi-Wan and Ahsoka, who had separated from Skywalker. It was inside the premises of the monastery where the test was taken in which Anakin proved to be the Chosen One by forcing Father's children to release Kenobi and Tano and then bring them to their knees. Soon, after the Son had kidnapped Ahsoka, he returned to the monastery where Father and Daughter were but being too impatient to see his Father live too long, the Son shocked his father and then later escaped. The Daughter and the newly-arrived Kenobi then laid the weakened but alive Father in the monastery while they left to stop the Son. Shortly after the Son and Daughter were engaged in a duel, Father awoke and flew out of the monastery to stop the fighting. Later, after Daughter's accidental death at the hands of the Son and the later on, the Son's and Father's death, the planet began to wear and tear and the crystal atop the monastery shattered into a million pieces emitting a blinding white light which transported the trio of Jedi back into their own galaxy. After that, the monastery was either assumed destroyed or had just vanished like the whole planet itself.
Appearances
Edit