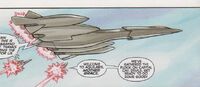 The Mother Grace was a transport ship used by Grace Command.
The Mother Grace was a sleek relief vessel operating out of Alderaan that worked in conjunction with Devil Squadron. The unit of Fire Lotus-class starfighters destroyed opposing forces prior to Mother Grace's arrival, in order to secure the delivery of food and medicine to stricken areas.
Appearances
Edit
Ad blocker interference detected!
Wikia is a free-to-use site that makes money from advertising. We have a modified experience for viewers using ad blockers

Wikia is not accessible if you've made further modifications. Remove the custom ad blocker rule(s) and the page will load as expected.