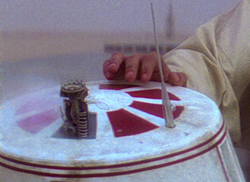 "This R2 unit has a bad motivator."
A motivator or a motivator unit was a device that was primarily used in droids to convert other forms of energy such as chemical or electrical energy into kinetic or mechanical energy. Without a motivator a droid would not be able to move.
A standard type of motivator found in Service droids around 4 ABY was the FV50 unit. Binary motivators were used in starships such as StarSpeeder 1000s.
Appearances
Edit
Ad blocker interference detected!
Wikia is a free-to-use site that makes money from advertising. We have a modified experience for viewers using ad blockers

Wikia is not accessible if you've made further modifications. Remove the custom ad blocker rule(s) and the page will load as expected.