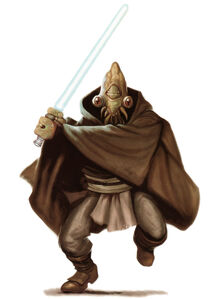 Lyari: "Come on, bright boy. Give us a chance."
Luke: "No. That would never work."
Zelara: "Why not?"
Luke: "Because I have lips, and you have beaks, for starters."
―Lyari and Zelara make a pass on Luke Skywalker
The mouth or maw was a part of the anatomy on most species. It was used to speak, eat, and drink. It was usually located below the nose and above the chin on a being's face.
Appearances
Edit
Mouths would reasonably appear in all Star Wars material. This list contains appearances where "mouth" is explicitly described.
External links
Edit
Ad blocker interference detected!
Wikia is a free-to-use site that makes money from advertising. We have a modified experience for viewers using ad blockers

Wikia is not accessible if you've made further modifications. Remove the custom ad blocker rule(s) and the page will load as expected.