The Mu-2 long range shuttle was a 20-meter long Sienar Fleet Systems long-range scout ship.
Characteristics
Edit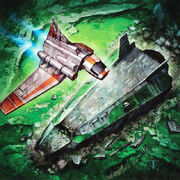 It carried a pilot, a co-pilot, 14 troops, 100 metric tons of cargo, and 6 months worth of consumables. The ship had a Class 2 hyperdrive, and a Class 20 backup. 850 kilometers per hour could be achieved in atmosphere. Deflector shields were supplemented by 2 fire-linked forward laser cannons. Although the Model 2 carried fewer passengers than the original variety, it had four enclosed sleeping cabins, and boasted a miniature galley.
The Radell Mining Corporation, the Galactic Empire, and the New Republic all employed the Mu-2. Lando Calrissian possessed a modified Mu-2, Cobra.
Appearances
Edit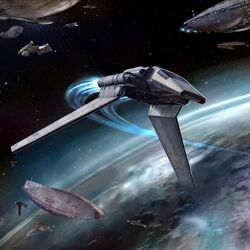 Notes and references
Edit
Ad blocker interference detected!
Wikia is a free-to-use site that makes money from advertising. We have a modified experience for viewers using ad blockers

Wikia is not accessible if you've made further modifications. Remove the custom ad blocker rule(s) and the page will load as expected.