Mu-class Model 2 shuttle
Talk

0
103,477pages on
this wiki
Mu-2 shuttle
Production information
Manufacturer
Model

Mu-class Model 2 shuttle

Class

Scout

Technical specifications
Length

20 meters

Maximum speed (atmosphere)

850 km/h

Hyperdrive rating

Class 2.0
Backup class 20

Armament

Fire-linked forward laser cannons (2)

Crew
Passengers

14 troops

Cargo capacity

100 metric tons

Consumables

6 months

Usage
Role(s)
Era(s)
Affiliation
The Mu-class Model 2 shuttle, more commonly known as the Mu-2 shuttle, was a 20-meter long Sienar Fleet Systems long-range scout ship.
Characteristics
Edit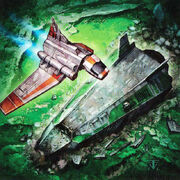 It carried a pilot, a co-pilot, 14 troops, 100 metric tons of cargo, and 6 months worth of consumables. The ship had a Class 2 hyperdrive, a Class 20 backup. 850 kilometers per hour could be achieved in atmosphere. Shields were supplemented by 2 fire-linked forward laser cannons.
Although the Model 2 carried fewer passengers and less weaponry than the original variety, it required two fewer crew than the Model 1, had four enclosed sleeping cabins, and boasted a miniature galley.
The Radell Mining Corporation, the Galactic Empire, and the New Republic all employed the Mu-2. Lando Calrissian possessed a modified Mu-2, Cobra.
Appearances
Edit