"Plus, the Starbreeze is a mu-type shuttle. Slip of a thing; haven't been able to locate her in the wreckage. Our only lead is inside the Imperial Army."
―Ardun Kothe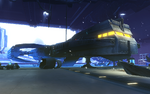 The mu-type shuttle was a shuttle model that was in use during the Great Galactic War. Colonel Laren Omas of the Republic Special Forces Division owned a mu-type named the Starbreeze, and it was among the starships that crashed on the planet Hoth after the Battle of Hoth.
Behind the scenes
Edit
Ardun Kothe describes the Starbreeze as a mu-type shuttle, but the Starbreeze actually makes use of the Imperial military transport ship model, which is an Imperial vessel and not a shuttle.
Appearances
Edit