Ad blocker interference detected!
Wikia is a free-to-use site that makes money from advertising. We have a modified experience for viewers using ad blockers

Wikia is not accessible if you've made further modifications. Remove the custom ad blocker rule(s) and the page will load as expected.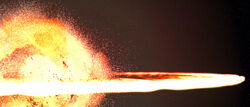 Mundicide was a term used for the destruction of a planet or similar celestial object. Various degrees of mundicide occurred throughout history; causes ranged from supernovas, superlasers such as the Galaxy Gun or the Death Stars, gravitational weaponry such as Centerpoint Station, or other superweapons. Some planets, while not completely destroyed, were rendered completely uninhabitable, such as Caamas and Uphrades. If a planet was deliberately destroyed, like in the case of the Destruction of Alderaan, it can sometimes be comparable to Speciecide due to wiping out a significant portion of the planet's population.
Completely destroyed
Edit
Destroyed by solar expansions, solar explosions, or supernovaeEdit
Destroyed by weapons, by Yo'gand's Core tactic, or by usage of the ForceEdit
Centerpoint Station
Edit
Death Star
Edit
Galaxy Gun
Edit
Sith artifacts/the Force
Edit
Sun Crusher
Edit
Yo'gand's Core
Edit
Other superweapons
Edit
Conventional weapons
Edit
Means of destruction unclear
Edit
Other completely destroyed planets/bodies
Edit
Rendered Uninhabitable
Edit
Bombardment by Jedi, Sith, Imperial, Republic, or other non-Yuuzhan-Vong forces
Edit
Inadvertent/accidental devastation
Edit
Vongformed or otherwise affected by the actions of the Yuuzhan VongEdit
Notes and references
Edit