"Music is REAL and RAW. It's the voices of people sharing your troubles and your joys."
―Sabine Wren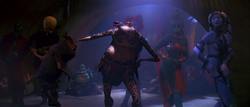 Throughout the galaxy, beings created and listened to the art form known as music.
Bands such as the Max Rebo Band performed songs like "Jedi Rocks" before audiences.[1]
Some repressive governments, such as the Galactic Empire, suppressed certain types of music, such as political protest songs like "Vader's Many Prosthetic Parts."[2]
Jatz was a type of music that was expectantly played at Suli's cantina.[3]
Sabine Wren enjoyed listening to music such as quenk jazz.[4]
Appearances
Edit
Notes and references
Edit
External links
Edit
Ad blocker interference detected!
Wikia is a free-to-use site that makes money from advertising. We have a modified experience for viewers using ad blockers

Wikia is not accessible if you've made further modifications. Remove the custom ad blocker rule(s) and the page will load as expected.