"Music."
"If you're from Tatooine, maybe. The rest of us would call that a rancor belch."
―Luke Skywalker and Mara Jade Skywalker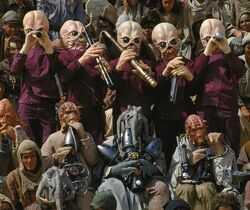 Music played an important role in the galaxy, giving artists the means to express themselves through sound waves. As galactic civilization spanned thousands of worlds and cultures, the variance in music of the galaxy was considerable, as was its role in different cultures. Even mechanicals were involved in the production of music; droids that were programmed to play music were called musician droids.
A vastly popular and galaxy-spanning type of music during the rule of the Galactic Empire was jizz. A popular jizz group in the Outer Rim Territories was Figrin D'an and the Modal Nodes.
Genres of music
Edit
Appearances
Edit
Non-canon appearances
Edit
Notes and references
Edit
External links
Edit
Ad blocker interference detected!
Wikia is a free-to-use site that makes money from advertising. We have a modified experience for viewers using ad blockers

Wikia is not accessible if you've made further modifications. Remove the custom ad blocker rule(s) and the page will load as expected.