The Naboo emblem,[1] also known as the Naboo royal crest,[2] was a traditional insignia of the Naboo, a group of Humans living on a planet of the same name. A flower-like symbol, it was frequently emblazoned upon clothes, jewels and other accessories worn by the monarch of Naboo and their entourage.[1] That emblem must have been created in ancient times, since it featured on an antique golden diadem that Queen Amidala wore with her traveling dress.[3] Another version of the emblem was used on the belt buckles of the Queen's handmaidens[1] and on the vertical banners that hung on the facade of the Theed Royal Palace.[4]
That symbol was omnipresent on all things of Naboo make or related to the Naboo. When Amidala became senator, her sleeping quarters aboard her J-type diplomatic barge had a rug with the Naboo emblem on it.[5] The stylized flower even appeared on the S-130 Shelter speeders used protection in hazardous environments.[6] During the Festival of Light that celebrated the anniversary of the Naboo joining the Galactic Republic eight hundred and forty-seven years before the Clone Wars, the emblem was featured prominently in a fireworks display.[7] In that display, the colony starship that brought the first Human settlers on Naboo was represented by the flower-like emblem crashing on the planet's surface. It was also shown emblazoned on the coat of Kwilaan, the famous explorer that discovered the Naboo system.[8]
Behind the scenes
Edit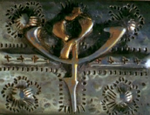 According to an article published in the Vogue fashion magazine, the stylized flower that was used as the Naboo symbol was inspired by Art Nouveau motifs.[9] It also bears resemblance[1] to the fleur-de-lis, a conventionalized iris in heraldry, which featured on the former royal arms of France.[10]
Appearances
Edit
Notes and references
Edit
↑  Crisis on Naboo Trivia on StarWars.com (slide 2 caption)
↑ Phyllis Posnick (April 1999). Star Wars Couture. Vogue. Retrieved on April 26, 2013. (Original no longer available, backup at The Fashion Spot)
↑ The Fleur-de-lis. Heraldica.org. Retrieved on March 24, 2013.