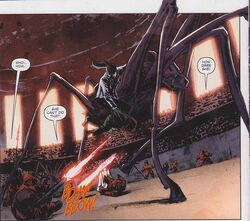 The planet Nalyd was home to a species of giant spiders which were domesticated by the indigenous Nalydian species. These giant spiders were larger than an adult-sized Human being and were used as steeds and pack animals. During the Skirmish on Nalyd, the junk dealer Ania Solo commandeered a Nalydian giant spider during an attempt to rescue Dieben, a condemned criminal. Ania and her Imperial Knight friend Jao Assam wanted to question Dieben about the whereabouts of the rogue Sith Darth Wredd. During the escape attempt, the Nalydian authorities rode on several giant spider steeds. Ania's spider was hit and fell down the pinnacle.
Appearances
Edit
Ad blocker interference detected!
Wikia is a free-to-use site that makes money from advertising. We have a modified experience for viewers using ad blockers

Wikia is not accessible if you've made further modifications. Remove the custom ad blocker rule(s) and the page will load as expected.