Nang hul
Talk

0
103,580pages on
this wiki
Nang hul
Designation
Eye color

Yellow
Nang hul, known in Basic as thud bugs, were a type of projectile biot engineered by the Yuuzhan Vong. They were used by Yuuzhan Vong warriors, who would throw them at victims. If the nang hul missed its target, it would fly in a loop back to its warrior.
The nang hul was a beetle with sharp, jagged legs and wings. Its wings were very powerful, emitting a loud buzzing sound when active, and causing a distinctive "thud" when striking an object. Nang hul shaped from sparkbees were the baseline for all such "bug" weapons.
Nang hul could be killed with a lightsaber, but their sturdy exoskeletons usually could not be broken in normal combat. If a thud bug became lodged in the ground, it could free itself using its wings and legs. They could simply be thrown at their target or shot at foes using a thud bug launcher.
These biots served as the primary ranged weapon of the Yuuzhan Vong warrior. Following the Yuuzhan Vong War they became outlawed, but were still used by such underworld types as Jariah Syn. It is known that some existed on Zonama Sekot where they joined the tampasi.
Appearances
Edit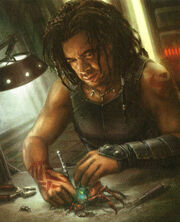 Notes and references
Edit