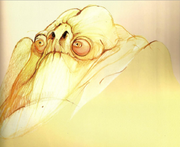 Nani, Medypsh, Effervesence, & Oeklass was a law firm composed of partners Lilac Nani, Medypsh, Zot Effervescence and Oeklass. After Oeklass violated the Contract of the Common Ownership Agreement established in 45-x-920p for stealing a boat on Mistar-5, Effervescence, along with Nani and Medypsh, signed a letter demanding that Oeklass either contacted them or sent them an oblong object as proof of compliance to the terms of the contract, or else default procedures would be put in motion immediately.[1]
Behind the scenes
Edit
Nani, Medypsh, Effervesence, & Oeklass was mentioned in a letter in Monsters and Aliens from George Lucas, a book published in 1993. Zot's surname is misspelled in the name of the law firm as "Effervesence".[1] Lucasfilm employee Leland Chee, who maintains the Holocron continuity database, has indicated that information contained in the book is non-canonical.[2]
Notes and references
Edit
Ad blocker interference detected!
Wikia is a free-to-use site that makes money from advertising. We have a modified experience for viewers using ad blockers

Wikia is not accessible if you've made further modifications. Remove the custom ad blocker rule(s) and the page will load as expected.