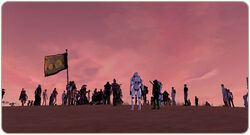 Nathan "Moraj_Markinnison" Larkins was one of the first beta testers of Sony Online Entertainment's MMORPG Star Wars Galaxies. When Nathan died as a result of a car wreck on October 4, 2002, the beta test community lost a valued member; his guild, The Crescent Order, lost a great member; and the Newbie Welcome Wagon (NWW) lost a beloved participant. The NWW kept a guild memorial for Moraj in SWG up until recently on the Chilastra Server.
The developers later placed a memorial flag at the spot where the first beta testers entered the game, to honor his dedication to the game and the community.
Ad blocker interference detected!
Wikia is a free-to-use site that makes money from advertising. We have a modified experience for viewers using ad blockers

Wikia is not accessible if you've made further modifications. Remove the custom ad blocker rule(s) and the page will load as expected.