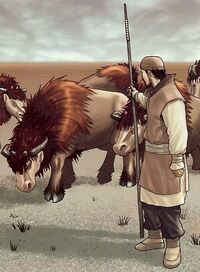 "Why, you low-down, stuck-up, half-witted, scruffy-looking nerf-herder…"
"Who's scruffy-looking?"
―Princess Leia Organa and Han Solo
A nerf herder, also spelled "nerf-herder" or "nerfherder," was someone who herded nerfs on various planets throughout the galaxy. As it was perceived as an occupation for lower-class beings, the term "nerf herder" became an insult used throughout the galaxy. Nerf herders were often somewhat simple, but as a result of living outdoors and fighting off anything that interfered with their herds, they became quite capable.
Behind the scenes
Edit
A pop-punk band derived its name from this phrase.
Appearances
Edit
Non-canon appearances
Edit
Ad blocker interference detected!
Wikia is a free-to-use site that makes money from advertising. We have a modified experience for viewers using ad blockers

Wikia is not accessible if you've made further modifications. Remove the custom ad blocker rule(s) and the page will load as expected.