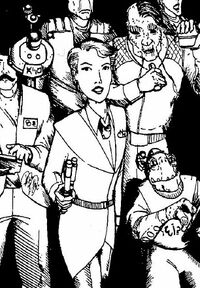 A NewsNet was an information news network carried by hyperspace courier shuttle or droid, rather than over the HoloNet. Following the requisition of the HoloNet for official use of the Galactic Empire, the old HoloNet news networks began using this method of transmission, which, while resulting in substantial lag between transmission and reception, allowed news to once again reach most parts of the galaxy. The loose conglomeration of sanctioned and pirate networks were collectively known as the "NewsNets."
Notable NewsNets
Edit
Appearances
Edit
Ad blocker interference detected!
Wikia is a free-to-use site that makes money from advertising. We have a modified experience for viewers using ad blockers

Wikia is not accessible if you've made further modifications. Remove the custom ad blocker rule(s) and the page will load as expected.