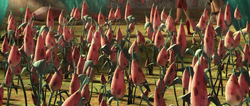 "They're growing healing herbs."
"Nysillin, I believe, one of the most valuable crops in the galaxy."
―Ahsoka Tano and Obi-Wan Kenobi
Nysillin, or sillum, was a healing herb grown on Felucia, harvested by Casiss's farming village during the Clone Wars. Hondo Ohnaka's gang of pirates threatened the village into giving away a portion of the herbs, a portion they could not afford to give up, so Casiss hired a group of bounty hunters to fight them. They were soon joined by the Jedi Obi-Wan Kenobi, Anakin Skywalker and Ahsoka Tano, who trained the Felucians to fight for themselves, prompting Ohnaka to give up.
Appearances
Edit
Ad blocker interference detected!
Wikia is a free-to-use site that makes money from advertising. We have a modified experience for viewers using ad blockers

Wikia is not accessible if you've made further modifications. Remove the custom ad blocker rule(s) and the page will load as expected.