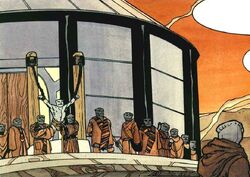 Nystao was the ruling city on Honoghr spread on the northern face of the planet. It was located at the center of a region known as the Clean Lands, as the remaining surface of the planet was contaminated with hybrid kholm-grass seeded by the Galactic Empire. Nystao was the home of the Grand Dukha where the clan representative of the Noghri convened occasionally.
Appearances
Edit
Ad blocker interference detected!
Wikia is a free-to-use site that makes money from advertising. We have a modified experience for viewers using ad blockers

Wikia is not accessible if you've made further modifications. Remove the custom ad blocker rule(s) and the page will load as expected.