Obi-Wan's Foe is a children's Jedi Reader novel written by Jane Mason and Sarah Stephens, set before the Battle of Utapau.
Publisher's description
Edit
As a very special extension of our acclaimed and bestselling Step into Reading line, Star Wars Jedi Readers will feature photographs from Episode III and text that is carefully designed to help children learn to read. This Step 5 Jedi Reader will focus on Obi Wan Kenobi's adventure from the movie!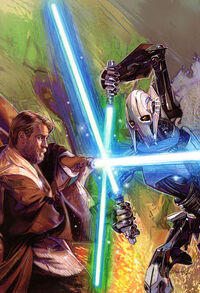 Ad blocker interference detected!
Wikia is a free-to-use site that makes money from advertising. We have a modified experience for viewers using ad blockers

Wikia is not accessible if you've made further modifications. Remove the custom ad blocker rule(s) and the page will load as expected.