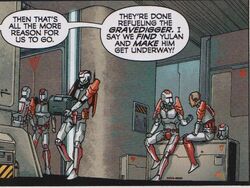 Odionate Sith troopers were regular infantry who served in Sith Lord Odion's miltiary forces during the Republic Dark Age. They wore white armor with crimson stripes and their helmets resembled those worn by the Galactic Republic's Clone troopers. They were recruited from non-Force sensitive sentient beings who were conscripted into the Odionate military. They were separate from other Odionate military units like the Thunder Guard and the Lightning Guard. They saw action during the various conflicts of the Second Charge Matrica including the Invasion of Sarrassia and the Second Battle of Skarpos in 1032 BBY.
Appearances
Edit
Ad blocker interference detected!
Wikia is a free-to-use site that makes money from advertising. We have a modified experience for viewers using ad blockers

Wikia is not accessible if you've made further modifications. Remove the custom ad blocker rule(s) and the page will load as expected.