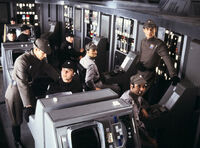 An officer was a military class used in many organizations. Mostly, it denoted those placed in command of enlisted soldiers. Some police forces, such as the Coruscant Security Force, also used it as a low level police rank similar to that of constable.
Behind the scenes
Edit
Officer is one of the professions players of Star Wars Galaxies may choose to play. It was added with the New Game Enhancements and is an evolution of the previous squad leader profession. Officers provide stimpaks and increase the combat performance of their party.
Appearances
Edit
Ad blocker interference detected!
Wikia is a free-to-use site that makes money from advertising. We have a modified experience for viewers using ad blockers

Wikia is not accessible if you've made further modifications. Remove the custom ad blocker rule(s) and the page will load as expected.