"Check the old war bunker on the beach near the city. I've heard it has been overrun by Skaak Tippers, so be prepared for anything. Examine anything of interest you find in the bunker."
―Wilson Tchorshel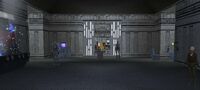 An old war bunker was situated along a beach a short distance northeast of the city of Kaadara on the Mid Rim world of Naboo. During the days of the Galactic Republic, the Trade Federation used the bunker as a research facility to test droids. By the time of the Galactic Civil War, the bunker was overrun by a criminal organization known as the Skaak Tippers.
"That was a research bunker. Naboo officers examined Trade Federation droids there. The better we knew what made them tick, the better we were able to stop them."
―Colonel Quarsh Panaka
The old war bunker began its days during the time of the Galactic Republic as a research facility for the Trade Federation. The Trade Federation would experiment on droids during the days leading up to the Battle of Naboo. Later, during the time of the Galactic Civil War following 0 BBY, the bunker had become overrun by a criminal organization known as the Skaak Tippers. A Mon Calamari by the name of Wilson Tchorshel suggested that a spacer investigate the bunker. In doing so, the spacer discovered a mysterious computer inscribed with barely legible text reading "Willoc," who was actually a sergeant of the Royal Naboo Security Forces. When the spacer used the computer, Colonel Quarsh Panaka urged the spacer to see him in Kaadara, as it had been over a week since he had last heard from him.[1]
Behind the scenes
Edit
The old war bunker was a location in the 2003 massively multiplayer online-role playing game Star Wars Galaxies: An Empire Divided, prior to the game's closure on December 15, 2011.[1][2]
Appearances
Edit
Notes and references
Edit
Ad blocker interference detected!
Wikia is a free-to-use site that makes money from advertising. We have a modified experience for viewers using ad blockers

Wikia is not accessible if you've made further modifications. Remove the custom ad blocker rule(s) and the page will load as expected.