Ad blocker interference detected!
Wikia is a free-to-use site that makes money from advertising. We have a modified experience for viewers using ad blockers

Wikia is not accessible if you've made further modifications. Remove the custom ad blocker rule(s) and the page will load as expected.
"Imperial High Command decided that defender pilots would only be selected from TIE Interceptor pilots who had flown at least twenty combat missions and survived. We're either the best pilots in the Imperial fleet or the luckiest."
―Onyx Squadron leader Rexler Brath
Onyx Squadron was a starfighter squadron within in the Imperial Navy. Like many Imperial Squadrons, it was named for something dark in color to emulate Darth Vader's famous Black Squadron.[2]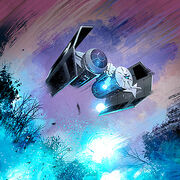 Around 1 ABY, flying TIE/sa bombers, Onyx Squadron participated in the Battle of Talus.[3] It was also the first line unit in the Galactic Empire to be equipped with TIE/D Defenders for use in combat, they saw action during the Battle of Endor under the command of Rexler Brath.[1] At some point, the squadron, at Imperial High Command's orders, restricted its intake of pilots for the Defenders to only allow in TIE/IN Interceptor pilots who had flown and survived at least twenty combat missions.[1]
Notable Members
Edit
Battle of Endor
Edit
Appearances
Edit
Notes and references
Edit
↑  Star Wars Galaxies Trading Card Game – Squadrons Over Corellia (Card: Onyx Four)
↑  Star Wars Galaxies Trading Card Game – Squadrons Over Corellia (Dark Side scenario campaign)