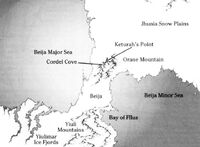 Orane Mountain a mountain that was located on the ice planet of Neftali. It was the tallest peak on Beija, a small piece of land which connected the Jhunia snow plains to the Yiulimar Ice Fjords. Keturah's Point was the uppermost pinnacle of Orane Mountain, and provided visitors with a panoramic view of the icy landscape for hundreds of miles around. The spaceport Cordel Cove was located at the base of Orane.
Ad blocker interference detected!
Wikia is a free-to-use site that makes money from advertising. We have a modified experience for viewers using ad blockers

Wikia is not accessible if you've made further modifications. Remove the custom ad blocker rule(s) and the page will load as expected.