"Get ordnance disposal in here before these people start going hysterical and get the Senator clear first."
―ARC Captain Ordo
Ordnance disposal was a unit of the Coruscant Security Force. It was composed of bomb disposal experts who were responsible for detecting, securing, and disposing of explosives.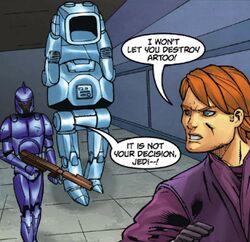 In 22 BBY, several bomb disposal officers were present at the Galactic City spaceport hostage siege. They secured the bombs that had been used to hold several hostages after the terrorists were neutralized by clone commandos of Omega Squad. One of the explosives officers discovered that the bombs had actually been fakes.
Appearances
Edit
Ad blocker interference detected!
Wikia is a free-to-use site that makes money from advertising. We have a modified experience for viewers using ad blockers

Wikia is not accessible if you've made further modifications. Remove the custom ad blocker rule(s) and the page will load as expected.