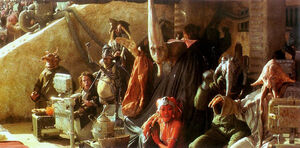 A species was a group of living organisms capable of interbreeding. The galaxy and its many planets were teeming with diverse species. Members of a species shared a fixed set of observable biological characteristics. Some species were sentient, capable of intelligent thinking, while others were not. Species whose body plan resembled that of humans were referred to as humanoid.
Appearances
Edit
Ad blocker interference detected!
Wikia is a free-to-use site that makes money from advertising. We have a modified experience for viewers using ad blockers

Wikia is not accessible if you've made further modifications. Remove the custom ad blocker rule(s) and the page will load as expected.