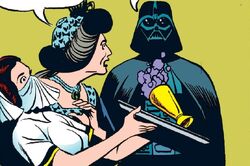 An orgone bubbler was a fizzy, fruity drink.
The Lady Tarkin offered Darth Vader an orgone bubbler during the banquet preceding the Thirteenth Imperial Diplomatic Conclave. Vader declined, citing his inability to ingest food of any kind.
Appearances
Edit
Ad blocker interference detected!
Wikia is a free-to-use site that makes money from advertising. We have a modified experience for viewers using ad blockers

Wikia is not accessible if you've made further modifications. Remove the custom ad blocker rule(s) and the page will load as expected.