Orion IV was a planet in the Tion Cluster of the Outer Rim Territories.
Description
Edit
Orion IV was located in the Tion Hegemony, at the edge of the Indrexu Spiral.[2] It was a terrestrial planet with a violet-colored sky.[3] Orion IV was one of the poor worlds of the Back Spiral. It was an ordinary manufacturing world.[2]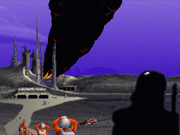 Orion IV tipped into near-open rebellion shortly before the Battle of Yavin.[2] The planet hosted a Rebel base that was destroyed by the Galactic Empire as part of Operation Strike Fear.[3]
Appearances
Edit
Notes and references
Edit
↑ 1.0 1.1 1.2 1.3  Star Wars: The Essential Atlas Online Companion on StarWars.com (article) (backup link)
↑ 2.0 2.1 2.2 2.3 2.4 2.5 2.6 2.7 2.8 "Xim Week: The History of Xim and the Tion Cluster" on Hyperspace (article) (content removed from StarWars.com and unavailable)